Khajuraho Temple Located in Chattarpur District of Madhya Pradesh stands the architectural marvel in the form of Khajuraho Temple. Khajuraho is derived from the Hindi word Khajur (Dates).
It is believed that long ago the King Chandravarman planted several Khajur trees around the city which led to the place being named as Khajuraho. In ancient times it was also known as Khajurpura / Khajurvahika.
ALSO READ: ABOUT SOMNATH TEMPLE
It is believed that the Kjajuraho temple was constructed somewhere in between the 9th and 11th Century by the Chandella dynasty. The temple complex have been divided into 3 groups namely East group , West Group and South Group.
Most of the temples are situated in the East to West region, these temple have been built on a long platform. In the 12th Century there were about 85 which were stretched in a diameter of 20 KM out of which only 25 temples are left which are spread across an area of 6 KM .
Out of the 25 Temples left 10 are dedicated to Lord Vishnu , 8 are dedicated to Lord Shiva , 1 temple is dedicated to Lord Surya , 1 temple is dedicated to Goddess ChausathYogini and the rest 5 are Jain Temples.
Amongst these temples the largest is the Kandariya Shiva Temple which was constructed by King Vidyadhar in Nagra architectural style in year 1050 AD . The temple is constructed with Balua stone and the platform of the temple is built using granite stone.
This shiva temple is about 30.5 meter tall from the ground and equally long in horizontal and 20 meter wide and with platform it is 35.5 meter.
Interestingly, no kind of cement has been used in the construction of this temple rather it is only made using stone slabs. There is about 646 engravings outside the temple and about 226 inside the temple.
Quick Facts
Location: Chhatarpur, Madhya Pradesh, India
Heritage designation: World Heritage Site
Photography: Allowed
Entry Fee: INR 40 (for Indian)
Dress Code: None
ALSO READ: ABOUT MAHAKALESHWAR UJJAIN TEMPLE
Astonishing Facts About The Temple?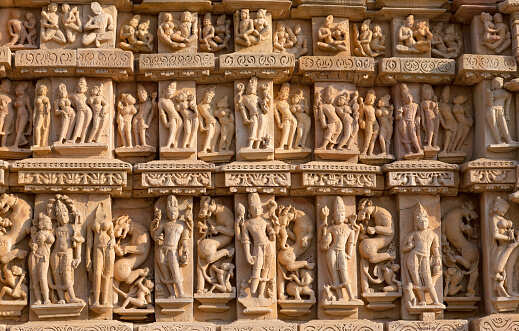 According to the legend, the creators of Khajuraho temple were descendants of the moon god in Indian mythology. It begins with the story of Hemavati, daughter of a Brahmin priest. Attracted to her maiden beauty, the moon god descended on earth and seduced her when she was bathing, on one evening.
It was the intense passion that made her give in to his advances. He could not resist the spell of her maiden charm. Their union gave birth to a son, Chandravarman.
In 1986 , Khajuraho was declared as UNESCO World Heritage Site.
There is a common perception that the Khajuraho temples are rich in erotic and sensual sculptures but the truth is only around 10% of these sculptures depict sensuality, the rest of them displaying various aspects of daily life like potters and farmers at work, etc.
The temples of Khajuraho are believed to be the high point of Indian architectural genius during the medieval times.
ALSO READ: ABOUT KAMAKHYA TEMPLE
How To Reach?
By Air
Khajuraho Airport also known as Civil Aerodrome Khajuraho is about six km away from the beautiful city.
By Rail
Mahoba is the nearest railway station to Khajuraho which is located at distance of 63 km from Khajuraho.
By Road
Khajuraho has excellent road connectivity with other cities in Madhya Pradesh. Several direct buses of MP tourism are available from the major cities.
Khajuraho Temples Photo Gallery
Where To Stay?
You can easily find hotels around the temple at affordable prices.
Note: We don't make any guarantees if the above-stated facts are not correct. If you think any information provided by us is wrong then contact us.