Nainital , popularly known as The city of Lakes is a visual treat for its visitors from all across India. It is set at an elevation of roughly 2,000m is located at Kumaon region of Uttarakhand, India. Formerly this place was a British hill station, famous for boating and the cool weather.
Places To Visit in Nainital
Nainital Lake
Nainital Lake, famously known as Naini Lake is the major attraction of Naintal town as well of Uttarakhand. Surrounded by panoramic seven hills, Nainital lake is a favourite spot among romantic travellers around the world. It is one of the most visited lakes in India.
The lake has featured in multiple bollywood movies such as Koi Mil Gaya, Vivah , Kati patang are few such examples.
One must go for boating in the beautiful lake.
Charges: INR 210 per hour for Paddle boat
---
Also Read: ABOUT TUNGNATH TEMPLE
---
Nainital Zoo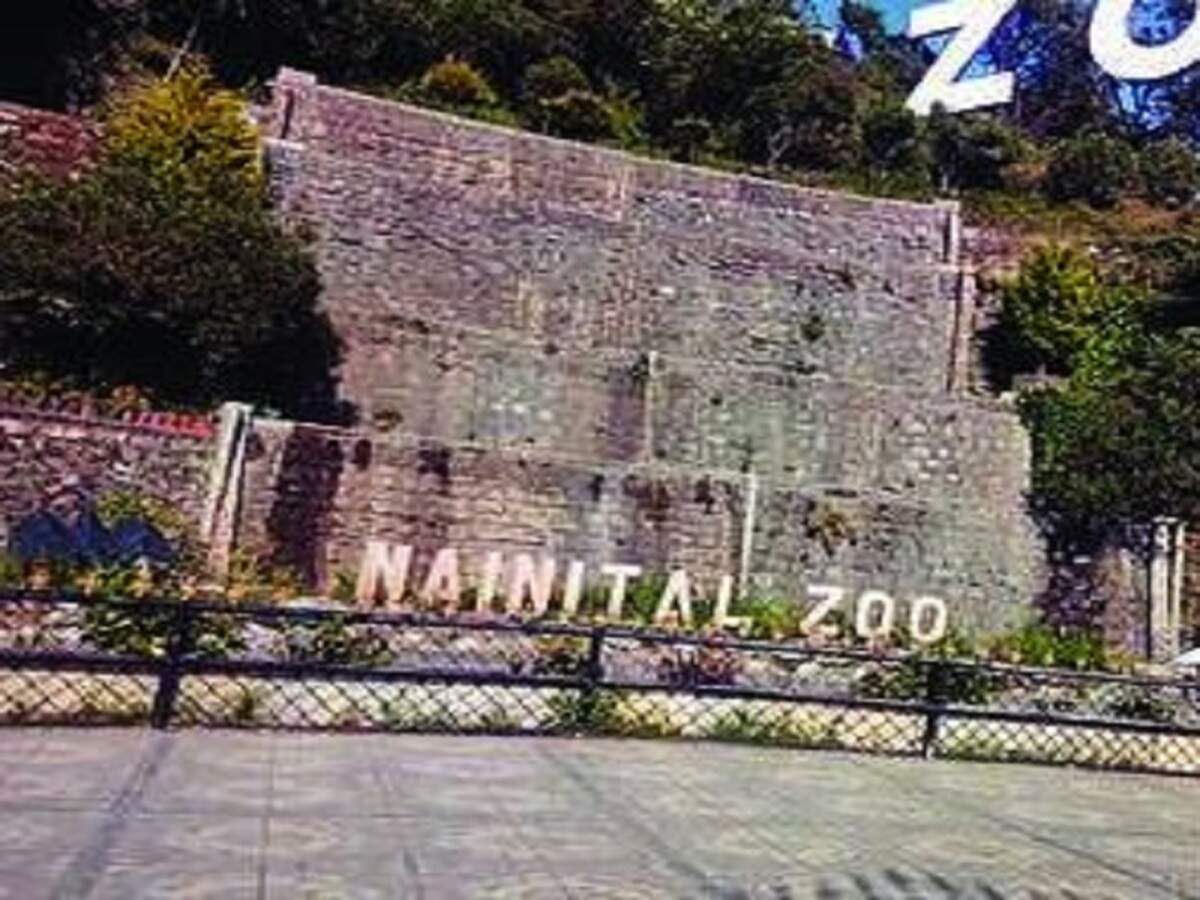 Pt. G.B. Pant High Altitude Zoo also known as Nainital Zoo is situated on the Sher Ka Danda hill at a height of 2,100 metres in Nainital. With a variety of rare and high altitude animals, this zoo is a must visit place of Nanital.
Pt. G.B. Pant High Altitude zoo is a home to various endangered species like the Royal Bengal Tiger, Sambar, Tibetan Wolves, Leopard Cat, Barking Deer, Japanese Macaque and the Himalayan bear. The zoo also houses various birds like Golden Pheasant, Rose-ringed Parakeet, Kalij Pheasant, Lady Amherst Pheasant, Steppe Eagle, Hill Partridge, White Peafowl, Blossom Headed Parakeet and Red Junglefowl.
Ticket Price: INR 50 per person for Adults
Timings: 10:00 am – 4:30 pm (Closed on Monday)
Naina Devi Temple
Standing on one side of the beautiful Naini Lake is the Naina Devi Temple, which is a famous Indian pilgrimage and one of the 51 Shaktipeeths in India. Located on the banks of the lake, it is a beautiful tourist destination as well.
The Naina Devi temple gets its name from the mythological legend that Goddess Sati's eyes (Nayan) fell at this place when Lord Vishnu cuts her body into 51 different parts. In fact, the whole town (Nainital), the lake (Naini Lake) and the Naini temple, all three of them are named after the legend.
The Naina Devi temple is considered as one of the most sacred temples in the country showering blessings on devotees from across the world. The great Shivalik range of Himalayas surround the town and the temple is guarded by the highest peak Mt. Nanda Devi which is believed to be the sister of goddess Naina Devi.
Timings: 6:00 am – 10:00 pm
The Mall Road, Nainital
The Mall is a most popular name in Nainital city. A busiest road in day time, The Mall runs side by side of the Nainital Lake. Britishers constructed The Mall Road which passes through the centre of Nainital and connects two main ends of Nainital city, Mallital and Tallital
Inspite officially renamed as Govind Ballabh Pant Marg, the Mall road still locally called and famous by its previous name. Tourists and locals likes to walk on the Mall to enjoy the beauty of Naini Lake mostly in the evening.
Tiffin Top (Dorothy's Seat)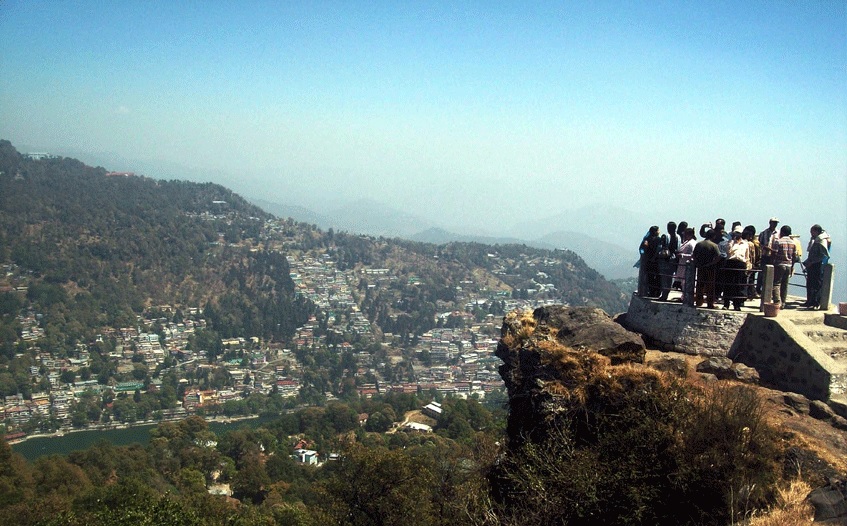 A romantic Gem in the crown on Nainital city is the Tiffin Top, also known as Dorothy's Seat. This famous attraction is a hilltop which offers the most splendid 360-degree view of Nainital city and surrounding Kumaon mountains.
Located 2290 m above sea level, this hilltop is a photographer's heaven and a perfect spot for a family picnic. As a matter of fact, the name Tiffin Top was kept after people started taking their tiffin and lunch boxes to this hilltop to enjoy a family picnic.
One of the most sought after places to visit in Nainital, the Tiffin top is located on the Ayarpatta hills surrounding Nainital city. It is a terraced hilltop that welcomes a lot of tourists. You can find professional photographers capturing the beauty that this hilltop offers.
Hiking and trekking are two activities that Tiffin top is famous for. Since it is only 4 km away from the Nainital city, the easy trek uphill is a big attraction amongst trek enthusiasts. People come in groups to enjoy the trek and live the beauty this place offers.
Eco Cave Gardens
Eco Cave Gardens is a newly developed tourist spot in Nainital. It comprises several natural inter connected caves of different animals. Hanging gardens makes this place more attractive. A children educational tour is the best option to explore Eco Cave Gardens.
A musical fountain enhances the beauty of the place with audio and visual effects. The garden is lit with old-school petroleum lamps to keep the authenticity of the place. The popular caves are Panther Cave, Tiger Cave, Bat Cave, Apes Cave, and Flying fox Cave. Along with caves throughout the pathway, there are hanging gardens which add to its beauty – Going through the caves is an experience which you would not want to miss.
Entry Fees: INR 60 per person for Adults
Timings: 9:30 am – 5:30 pm
Kilbury Bird Sanctuary
The Kilbury bird sanctuary is the ultimate destination for anyone who loves watching birds. Due to this reason, it is also called as the bird watcher's paradise.
This Sanctuary is a forest area which is covered with Oak trees, pine trees and Rhododendron apart from other species of the Nainital reserve forest.
The Bird Sanctuary is home to a variety of birds and mammals. The most sighted birds among the wide variety of 580 others are Lammergeier, Himalayan Griffon, Blue-winged minla, Spotted and Slaty-backed forktail, White-throated laughing thrushes, Rufous-bellied Woodpecker, Rufous-bellied niltava, Khalij pheasant, Brown wood owls, Collared grosbeaks, Little pied flycatcher, Himalayan bulbul, Striated Prinia, Altai accentor, Chestnut-bellied Nuthatch, Green-backed tit, Dollarbird etc.
Most of the people who visit the place are frequent visitors who take time out of their lives to watch birds and fulfil their desires. This sanctuary is placed in midst of the reserved forest of Nainital.
Timings: 6:00 am – 5:00 pm
---
Also Read: Top 6 Places to Visit in Auli – A Guide for Travel Lovers
---
How To Reach Nainital?
By Air
The nearest airport to Nainital is situated at a distance of 70 km. The Pantnagar Airport is a two hour drive away. Taxi and bus service are easily available.
By Rail
Kathgodam railway station, about 23 km away from Nainital, is the nearest railhead serving this gorgeous hill station. There are several direct trains running daily from the metro cities such as New Delhi, Kolkata, Agra and Lucknow to Kathgodam.
By Road
Nanital is well connected with road. Regular buses ply from delhi and all across Uttarakhand.
Where To Stay?
OYO 8985 Summer King
OYO 37824 Shri Home Annexe
If you like our work then please Donate to us so that we can keep posting content regularly.
Note: We don't make any guarantees if the above-stated facts are not correct. If you think any information provided by us is wrong then contact us.