"Royal" is probably the first word that pops into your mind when you try to describe the stunning region of Rajasthan.
From a detailed history to rich architectural structures, treasured heritages to vibrant culture, great shopping centres to old-world style and warmhospitality to exquisite food, Rajasthan is full of things to do. Its stunning forts,breathtaking landscapes, stunning dunes, rocky mountains with sparkling lakes and luxurious palaces.
You will find many unique places to see in Rajasthan. Here are some of the best spots to visit in Rajasthan for you to discover.
Rajasthan tour is filled with impressive forts, lavish palaces, exquisite temples, rich heritage and culture, the largest wildlife sanctuary, unique architecture and history, and more.
Jaipur is the capital of Rajasthan, is also regarded as one of the most stunning cities to explore in Rajasthan through thrillophilia.
Jaipur is home to numerous landmarks and architectural treasures such as City Palace, Amber Fort and Palace, Jantar Mantar
Observatory, Birla Mandir, Hawa Mahal, Nahargarh Fort, Albert Hall Museum and
Jaigarh Fort. Also called the "Pink City The Pink City Jaipur is India's very first plannedcity.
The city has experienced rapid growth over the years and is considered one of
India's major cities. The rich heritage of the past and the glitzy shopping centres and
skyscrapers make the city a fascinating mix of modern and old.
Jaipur is an ideal destination to visit any time of the year.
However, it is suggested to avoid summers as the temperatures are scorching. A flight ticket from Jaipur International Airport is the best method of getting to the city.
Jaisalmer
The vast expanses of Thar Desert, as well as the stunning dunes of sand that cover areasof Jaisalmer, are the reason for Jaisalmer becoming known as the "Golden City. Tourist attractions include Jaisalmer Fort, Gadi Sagar Lake, Sam dunes, Tanot Mata Temple, Kuldhara Village, Tazia Tower and Badal Palace, Nathmal Ji Ki Haveli and Amar Sagar Lake have made it a significant tourist attraction in Rajasthan.
It is possible to go oncamel safaris or experience the desert festival celebrated during January and February and have a wonderful experience.The months of September, November, and January are the best periods to visit the city.To get to Jaisalmer, it is possible to take a flight from Jaisalmer Airport.
Due to its sparkling water and green mountains, Udaipur can also be described as "the Venice of the East and the 'city with lakes'.
It is listed as one of the most stunning destinations to visit in Rajasthan within three days due to the numerous tourist sites likeLake Pichola, City Palace, Fateh Sagar Lake, Jag Mandir, Udai Sagar Lake, JagdishTemple, Monsoon Palace, Kumbhalgarh Fort, Swaroop Sagar, Ahar Museum, Jag Mandir, Bagore ki Haveli, Saheliyo ki Bari and Haldighati.
The months of November through March are the ideal period to travel to Udaipur. It is
possible to book an air ticket from Maharana Pratap Airport to reach Udaipur.
Jodhpur
Jodhpur is also known as 'the Blue City due to the vivid blue hues covering the city's
forts, palaces, houses, structures, homes and temples.
It is among the most popular tourist destinations in Rajasthan, featuring many unique places such as The Umaid Bhawan Palace, Jaswant Thada Mehrangarh Fort, the Mandore Gardens, the Kalyana Lake and Garden, Sardar Samand Lake, Masuria Hills, Ranisar Padamsar, Ghanta Ghar,Ghanta Ghar and the Khejarla Fort.
It is possible come here all year round, but the most pleasant weather can be
experienced between November and February. To get to the city, you need to arrange a flight from Airport.
Sawai Madhopur
Ranthambore Fort is named as a World Heritage Site by UNESCO. The town has earned its mark among the top tourist spots in Rajasthan principally because it is home to one of the nation's top reserves for tigers, Ranthambore.
The town is awash with wildlife and flora of the beautiful city by taking an exciting wildlife safari within this national park.
The townhouses are also located there. Other places to visit in the town are Padam Lake,Kachida Valley and Khandar Fort.
It is easier to identify a tiger in November and February. Additionally, the weather is
pleasant during this time of year. The nearest airfield to the town lies about 160
kilometres far away, in Jaipur. The railway station located in Sawai Madhopur is well-
linked to the main railway lines.
Bikaner
Nestled in the Thar Desert and the Thar Desert, the city is considered among the
most breathtaking and culturally rich places to visit in Rajasthan. The forts and
palaces are grand, with their delectable cuisine and unique art forms that lend the
city a traditional feel. The Camel festival here is another reason for Bikaner'spopularity. Architectural delights such as Lalgarh Palace, Junagarh Fort, Karni Mata Temple, Laxmi Nath Temple, Laxmi Niwas Palace, Gajner Palace and Lake
and Lalgarh Palace and Museum make Bikaner all the more appealing to visitors.
Pushkar
It is a popular tourist attraction in India. The city is home to the sole remaining Brahma temple, a holy site to many Hindu devotees. The famed camel fair that is held each year is the must-see tourist spot in Rajasthan.
Pushkar Lake, Meerabai Temple, Brahma Temple, Pushkar Bazaar, Varah temple, Apteshwar Temple and Man Mahal are other attractions in the serene city.
The best time to visit Pushkar is between October and November, during the fair for
camels. The nearest airport to Pushkar is 146km away from Jaipur. Pushkar Terminus
Railway Station can be directly connected with Ajmer Railway Station.
---
ALSO READ: ABOUT PUSHKAR TEMPLE OF BRAHMA
---
Mount Abu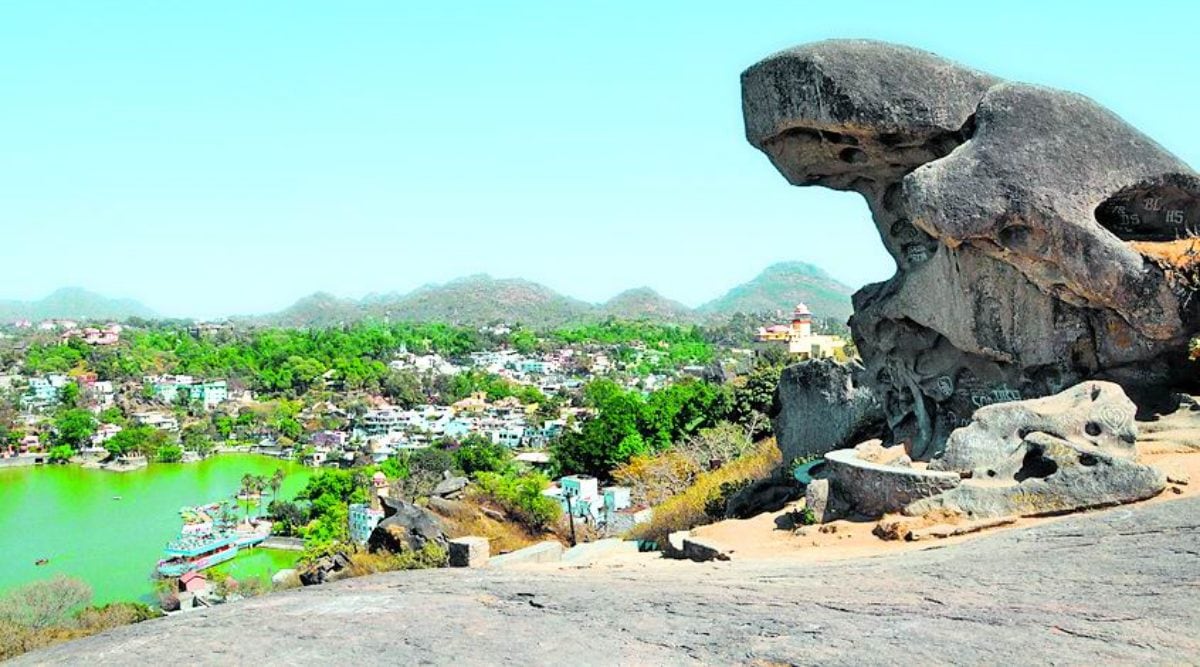 As Rajasthan's only hill station, Mount Abu serves as an ideal retreat from the scorching summers of Rajasthan. Its location in a desirable and green Aravalli Hills, its association with Hindu mythology, and its stunning structures like the Dilwara Jain Temples, Mount Abu is listed as one of the top destinations you can visit within Rajasthan for all architectural, natural, and history fans.
You can take a boat ride in the crystal clear Nakki Lake, trek along Guru Shikhar, camp at Aravalli and enjoy bird watching in Trevors Tank, and explore the wildlife in Mount Abu Wildlife Sanctuary.
Mount Abu has favourable weather all year. Abu Road railway station is 28 km from the city and is connected to all major cities.
Ajmer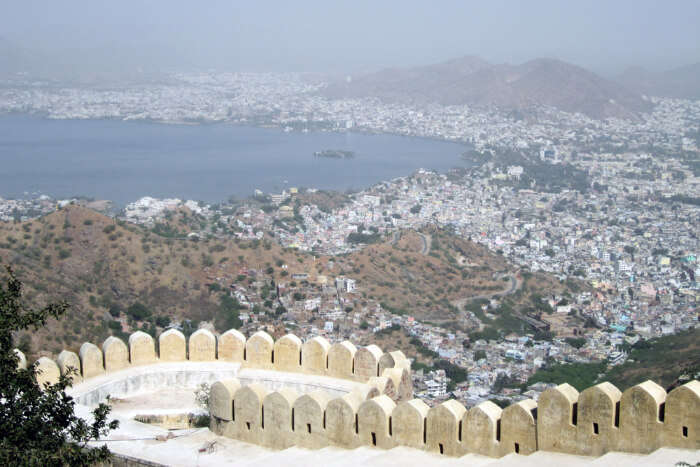 This place could be considered an ideal illustration of unity within the country's diversity.
It is a famous sacred place with Muslims, Hindus and Jains. The city is particularly renowned for its Dargah Sharif and other gems of Mughal architecture.
Adhai Din Ka Jhonpra, Anasagar Lake, Soniji Ki Nasiyan, Lake Foy Sagar, Nareli Jain Temple, Naag Pathar ranges, Akbar's palace, and the Clock Tower are the numerous attractions of the city.
This place has the most comfortable temperatures from October through February. It is recommended to stay clear during the hot summer season. Kishangarh Airport is just 30 kilometres from the city.
Chittorgarh
From glorious past to rich heritage, magnificent forts to fantastic architecture and
stunning views to delicious Rajasthani food, Chittorgarh has a lot to make it one of the fascinating places to see in Rajasthan.
As the place of birth of many historical figures like Meera Bai and Maharana Pratap, a myriad of immortal stories are connected to this location.
Kumbhaswamini Temple, Vijay Stambha, Gaumukh Reservoir, Kirti Stambha, Kalika Mata temple, and Bhainsrorgarh Fort are some of the most prominent attractions of this city.
Monsoons and winters are the best time to visit the area. Maharana Pratap Airport,
located in Udaipur, is the nearest airfield to the city. It is 105 km away. Chittaurgarh
Junction railway station is easily connected to the main cities.
Bundi
Brimming with stunning palaces, forts, enormous step wells, stunning Havelis, gorgeous temples, and intricate chhatris with carved columns and pillars, the Bundi district Bundi is located 36 km far from Kota.
Orchards dotted with guava, mango, and orange trees and the Aravalli range with sparkling rivers and fields filled with cotton barley and wheat provide Bundi with stunning landscapes, making Bundi one of the top places to go to in Rajasthan.
Sukh Mahal, Nawal Sagar, Dabhai Kund, Bundi Palace, Taragarh Fort, Moti
Mahal, Badal Mahal, Garh Palace, Raniji ki Baori and the 84 Pillared Cenotaph are just a few of the sights which add to the place's attraction.
The ideal time to visit Bundi is between October and March. Jaipur's Sanganer Airport is the nearest airport located at 200 km. Bundi railway station is connected to Chittorgarh.
Alwar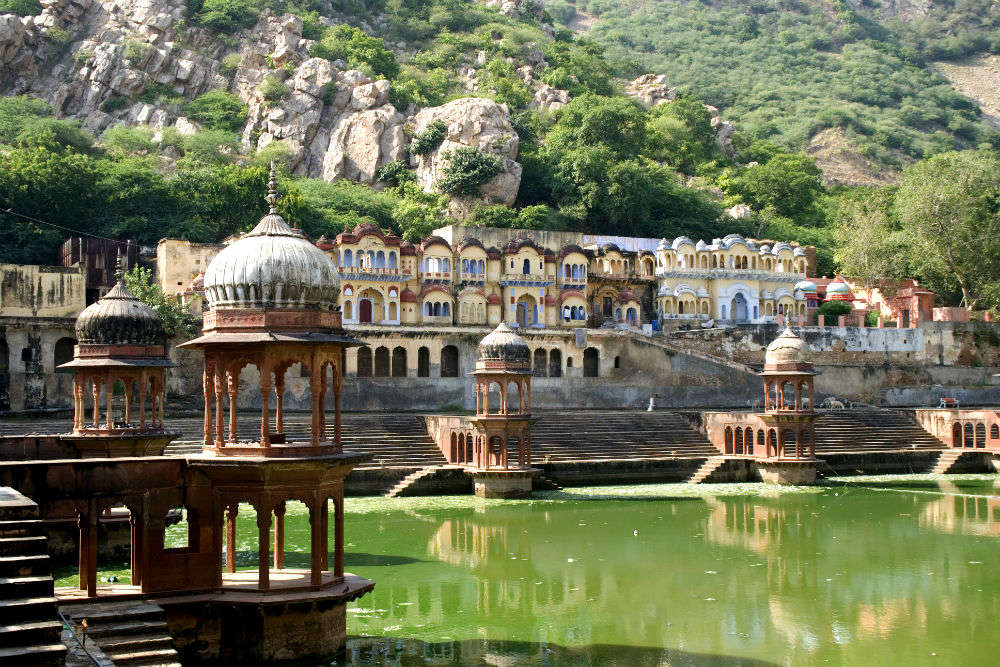 It's easy to count as one of the top tourist attractions in Rajasthan because of its
connection to Hindu mythology, its rich wildlife and flora, magnificent castles and forts, a lively culture, impressive heritage and unspoiled surroundings.
There are numerous unique places, such as Sariska Tiger reserve, haunted Bhangarh Fort, Karni Mata temple ,Pandupol, Bala Quila fort, Siliserh Lake Palace, Kesroli, Sariska Palace, Alwar City Palace, Purjan Vihar Moosi Maharani Chhatri Garbhaji WaterFalls and Neelkanth.
The best time to visit is between October and March. The season for visiting Alwar. Thenearest airport is Indira Gandhi International Airport in Delhi, located at about 141 kilometres. Train Shatabdi Express, which links Delhi and Jaipur and makes a stop at Alwar.
Author's Suggestions For Stay
Note: We don't make any guarantees if the above-stated facts are not correct. If you think any information provided by us is wrong then contact us.