Leh Ladakh: the 'Land of High Passes' is a barren yet beautiful region located in the northern part of India. Sharing its east border with Tibet, Ladakh has Lahaul and Spiti to its south and the Kashmir valley to the west. Strategically placed on ancient trade routes, Ladakh lies between the Kunlun Mountains in the north and the Himalayas in the south. The region originally comprised the Baltistan valley.
It is one of the very few destinations in the world where the entertainment starts the moment you begin your travel towards it. Ladakh ranks very high, probably on top, on the list of motorbikers across the country. The stunning landscapes make the drive from Manali or Srinagar to Leh in Ladakh one of the most memorable journeys one can ever embark upon.
Places You Must Visit in Leh Ladakh
Lamayuru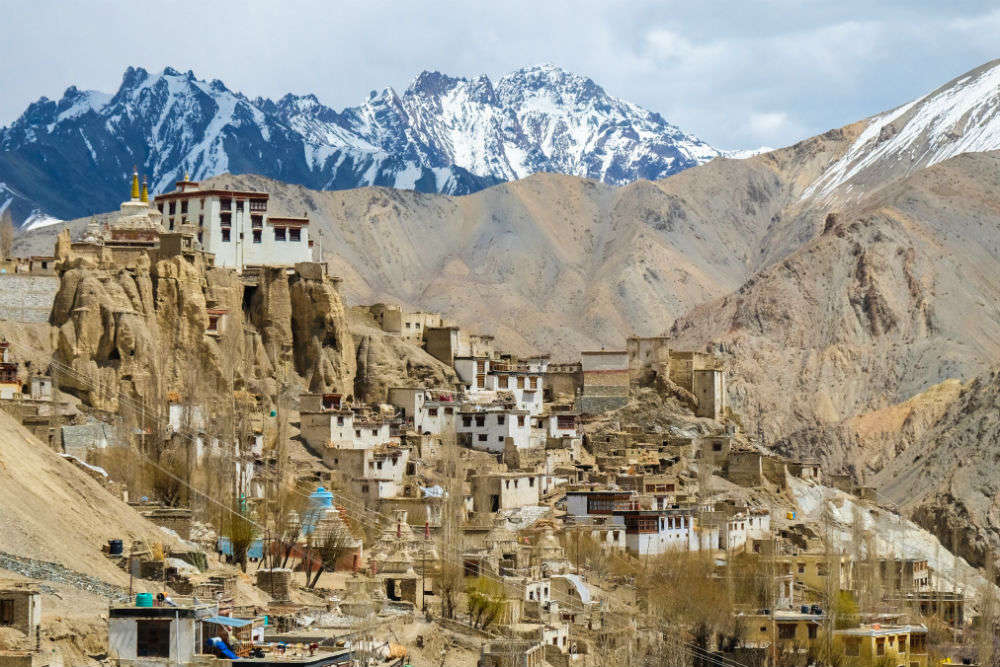 Lamayuru is located on the Leh – Srinagar Highway. So, if you you are in Leh Ladakh you must visit this place. Lamayuru is famaous for the Lamayuru Monastry which is situated at a distance of 127 KM.
Lamayuru, fondly referred to as the Moon Land, is a major stopover on the Leh-Kargil Road. Hidden in the folds of the mountains of this mystical land is the Lamayuru Monastery. One of the oldest gompas in Ladakh and Spiti, this monastery is perched atop a cliff. Going by the legends, this region was once under a lake that was made to dry up by a holy man.
The main sanctum of the monastery has a cave where Mahasiddha Naropa meditated for years. The entire region is considered sacred owing to the monastery's presence and a visit is believed to liberate people from all their sins. Other than its religious significance, the place looks like a picture postcard that has turned real.
Location on Map:- Lamayuru
Pangong Lake
Nature is full of suprises , if you ever wish to be suprised then you must visit the Pangong Lake which is situated at a height of 4,350m and is also the world's highest saltwater lake. Its water, which seems to be dyed in blue, stand in stark contrast to the arid mountains surrounding it. Extending to almost 160km, one-third of the Pangong Lake lies in India and the other two-thirds in China.
Pangong Lake, one of the most famous lakes in Leh Ladakh, derives its name from the Tibetan word, "Pangong Tso", which means "high grassland lake".
The impeccable view will blow your mind off and that is the reason why this lake is a treat for photographers all across the globe. Pangong Lake is also known to change colors, appearing blue, green and red at different times. The beauty is beyond the description of words.
Location on Map:- Pangong Lake
Nubra

Valley
Nubra Valley is a few hours to the North of Leh; this is where the Shyok and Siachan rivers meet. The valley separates Ladakh from the Karakoram Ranges and the mighty Siachen Glacier. The valley is accessible through the world's highest motorable road : the Khardung La.
Panamik Village is the last settlement in the northern end of the Nubra valley and is open to tourists. Nubra's stark landscape, jagged mountains and altitude attract adventure tourists from across the globe.
This valley is popularly known as Ldumra or the valley of orchard/flowers. It is situated in the North of Ladakh, between Karakoram and Ladakh ranges of Himalayas. Nubra lies at average altitude about 10,000 feet above sea level.
Location on Map:- Nubra Valley
---
Also Read: 21 THINGS TO DO IN JAMMU & KASHMIR
---
Zanskar
Zanskar Valley is a semi-arid region that is nestled in the lap of the northern flank of Great Himalayas. It's pristine water bodies, snow-capped mountains surrounding the region, and scenic landscape work as a major draw for tourists. Located around 105 km away from Leh, this region is a hotspot for adventure activities, including water rafting, trekking, paragliding, among others.
Rivers, monasteries, and snow-clad mountains form the beautiful landscape of Zanskar. Lingshed Monastery, Stongdey Monastery and Phuktal Monastery are some of the famous monastries of the region.
Zanskar, primarily known for its unique Chadar Trek or the Frozen River Trek, is accessible during winters. Apart from this, This place is known for its treacherous terrain for adventure lovers, such as the Padum-Darcha Trek, Lugnak Trail Trek, and Zanskar-Sham Valley Trek are some of the treks that one can try.
Location on Map:- Zanskar
Suru Valley
Surrounded by snow-capped mountains, pristine rivers and verdant valleys, the picturesque Suru valley is a must-visit throughout your trip to Ladakh. set within the Kargil district, it boasts a mixture of Turkish and Tibetan architecture that's mirrored within the smattering of quaint homes here.
A preferred attraction is Kartse Khar, that features a seventh-century sculpture of Lord Buddha that stands at a height of about 7 foot. Tourists may also visit Rangdum that's home to a monastery and 2 hamlets. Panikhar is a well-liked base for those eager to start mountaineering excursions.
The Zangla monastery is also situated nearby and is a must-visit. The hills of Suru valley are cultivated more than any other region in Ladakh and for journey lovers, the Nun Kun Peak has majestic geographical variations of glacial structures, alpine slopes and majestic peaks.
Location on Map:- Suru Valley
Drass
Drass is an important halting place for travellers going to Leh and Kargil.
It is a small town located about 60 kms to the west of Kargil, on the road to Srinagar. It has the unenviable reputation of being the second coldest inhabited place in the world, with the temperature going to as low as – 40C during winter. Drass Valley starts from the base of Zojila Pass, the Himalayan gateway to Ladakh.
This place suffered heavily in the summer of 1999, when the town was shelled by Pakistani backed incursions. The Indian army eventually re-captured the town, its surrounding areas, and Kargil district. It is the nearest point to the Line of Control.
Location on Map:- Drass
Travel Tips For Travellers
Ladakh Atmospheric Conditions: Leh Ladakh are located at very high altitude leading to extreme cold temperatures thus making the air thin, so prepare yourself well before planning a trip.
Lack of Medical Facilities: One should always carry medicines in order to deal with all basic medical conditions like stomachache, headache and fever. Further, because AMS, or altitude mountain sickness is quite common here. Getting such medicines is quite tough at times.
Internet Services: As you go up the mountains the network connectivity decreases.
Ensuring food supply: Since you will be travelling at a high altitude area it is advised to keep some food ready in case you get stuck.
Road Conditions: During the winters, the entire Himalayan region experiences heavy snowfall due to which the scheduled opening of the roads is often delayed. This is also the time when we find the roads in a bad condition.
Best Time To Visit: April to July during this time temperature is between 15 to 30 Degree Celsius.
How To Reach Leh Ladakh?
By Air
The nearest airport is Kushok Bakula Rimpochee Airport located in Leh. This airport is just 3.8 km away from the main city. Kushok Bakula Rimpochee Airport is well connected with many international airports in India
By Rail
One cannot reach Ladakh directly by train as there is no train station in Ladakh. The nearest railway station is Jammu Tawi ehich is 700 km from Ladakh.
By Road
There are two road routes to Leh Ladakh- one through Manali in Himachal Pradesh and the second one through Srinagar. Ladakh is 434 km from Srinagar and 494 km from Manali.
To reach Leh by road you can hire a cab or a jeep or board a JKSRTC bus, both deluxe and ordinary, run from Kargil and between Leh and Srinagar on regular and frequent intervals.
Alternatively, you can embark on a bike trip to Leh from Srinagar, Manali, Delhi or Chandigarh depending upon the time you have. You can only travel to Ladakh by road between May to September as during the winter months the highways are shut due to heavy snowfalls.
Where To Stay?
Note: We don't make any guarantees if the above-stated facts are not correct. If you think any information provided by us is wrong then contact us.