Maa Chintpurni Temple is one of the 52 Shaktipeeths dedicated to Goddess Sati. It is located at the beautiful Scenic location of Chintpurni Town district Una of Himachal Pradesh state in India.
This is the old Temple of Mata Bhagwati Chinnamasta Devi. According to one of the sacred books of Sanatam Dharm, Shri Markandeye Puran, after killing of all the Asuras and upon conclusion within the massive war,, Maa Bhagwati's 2 'sahyoginis', Jaya and Vijaya who had killed the various Asuras and drank their blood,but they were still thirsty for more blood. So Maa cut her own head and quenched the thirst of her sahyoginis along with her own blood. Since then, Maa Bhagwati's this avtar was called as Maa Chinnamastika (Chinna is without and Masta is Head).
Maa Chintpurni temple is a single-storied building made of stones. Its base is square and a dome provides the middle of its roof. The prime entrance to the temple faces north. An old banyan tree, with a raised platform at its feet, stands before the entrance. alternative aspect of the doorway gate, the idols of lord Ganesh and Hanuman are placed within the temple premises.
A massive brass bells droop high along the entrance inwards. Devotees who come to pay homage to the Goddess toll these bells both way while going to and coming back from the deity. The deity, a stone idol (pindi) of the Goddess stands placed in a palanquin of white marble in the room inside. The priests who are descendants of Mai Dass, sit beside the 'pindi' and do its 'puja'.
ALSO READ: ABOUT JAWALAJI TEMPLE
On the western part of the roof of the temple are placed engraved stone images of Bhairon and Hanuman. To the south and west of the temple, some verandahs and additional rooms have been constructed. They are meant for the temple trust officials, priests and devotees during the celebrations. There is another banyan tree in the campus of the temple where 'mundan' (first hair cutting) ceremony of children is performed.
As per old Grants, Puranas, and other Dharmic Books, it is also mentioned that Maa Chhinnamastika's Dham or place or temple will be guarded by Lord Rudra Mahadev on all sides. Hence this place has perfect reasoning to be that Dham/ Temple. It has Mahadev's temple on all 4 sides (At East-> Kaleshwar Mahadev Temple, At West-> Narahna Mahadev Temple, At North-> Muchhkund Mahadev Temple, At South-> Shiv Bari Temple).
Hence Maa Chintpurni temple was declared as Maa Chinnamastika Devi Dham or Mata Chinnamasta Temple. Further, Pandit Mai Das was a famous devotee of Maa Chinnamasta and worshipped Her till one day She gave him Her Darshan. The place was though called Chhabroh, however since Maa came and relieved Pandit Mai Das from all his tensions, this place got more popular by the name Chintpurni.
The usual offering, by a devotee, consists of seven pieces of betelnut (supari), a piece of coconut (nariyal), a red flag (dhawaja), all bound together with home-spun multi-colored cotton-yarn (mauli). On the 8th day of the fair, the offerings of 'Karah' (halwa) and 'chattar' with 84 tiny bells hanging on its fringes, representing 84 lacs births in different forms of the devotee form which he or she seeks salvation from the Goddess.
Diwan Dina Nath, a nobleman of prince Ranjit Singh's court, got made the steps and therefore the path resulting in the temple. within the north of the temple concerning 2 furlongs down Capitol Hill, is settled a deep however terraced tank, a holy dip during which is additionally an area of observance. within the east of the tank, there's a powerful temple of Lord Shiva within the premises of that there's a 'dhuna' of Guru Gorakhnath's sadhus.
Quick Facts
Deity: Chhinnamasta Shakti Peeth
District: Una district
State: Himachal Pradesh
Elevation: 3,208 feet above sea level
Affiliation: Hindu
Creator: Mai Das
Best Time To Visit: April To June
Festivals: Navratras,Sawan Ashtami and Asuj Navratras
ALSO READ: ABOUT BIR – BILLING
Pooja Timings
| | | |
| --- | --- | --- |
| 1 | Goddess Sanan & Aarti | Daily 6:30 AM |
| 2 | Bhog(Darshan has been stopped) | Daily 12.00 to 12:30 PM |
| 3 | Evening Sanan & Aarti | Daily 6:30 PM to 8:00 PM |
| 4 | Goddess Sayan | Daily 10:00 PM |
ASTONISHING FACTS ABOUT THE TEMPLE
Main Offering To Mata Is Simple Parshad of Halwa And Red Colour Chunri.
It is believed that you must finish your Prashad there and then only before visiting Jwalaji Temple since it is said you should not carry the prasad of one sister to the another.
As per old Granths, Puranas, and other Dharmic Books, it is also mentioned that Maa Chhinnamastika's Dham or place or temple will be guarded by Lord Rudra Mahadev on all sides.
How To Reach?
By Air
Nearest airport is at Gaggal which is about 60 km from the shrine.
By Rail
Closest railheads is Amb Andaura which is about 19 km. Frequent bus and taxi services to Chintpurni are available from the railway station.
By Road
Delhi and Himachal State Transport run buses on the Delhi-Chintpurni route . One can easily book it on the HRTC website. Private buses also ply on these routes.
Where To Stay
?
There are many Hotels and Dharamshala's around the temple . You can easily get a room in about 500-1800 INR . So it's better to book a hotel when you reach the temple.
Though we will advise you to stay at:
HPTDC The Chintpurni Heights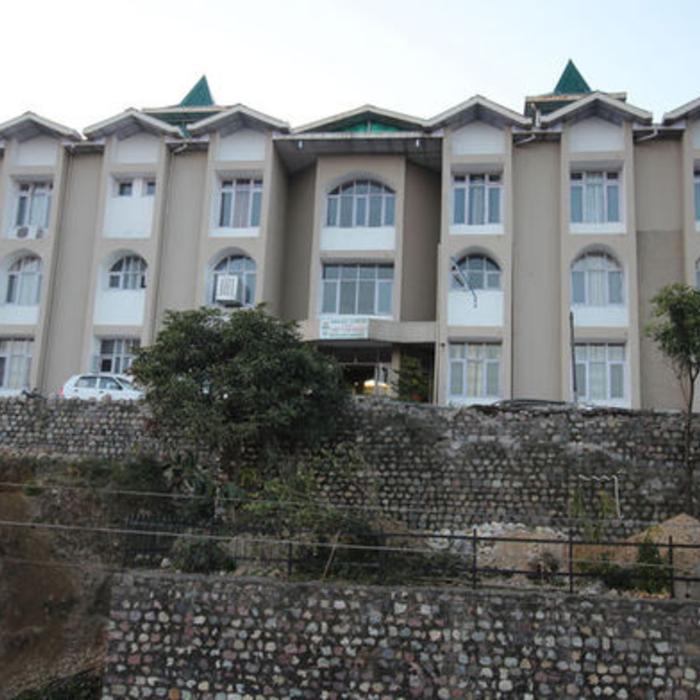 It is a accommodation offered by Government of Himachal Pradesh , located at Bharwain (which is about 3 km from temple) and it has an amazing view, the bright lights of the market are just ahead and past the wooded slopes are the shimmering waters of the Govind Sagar Dam. The hotel is located at a hill top surrounded by Cheer forest. The temperature of this place is slightly lower as compared to Chintpurni town since it is at a higher altitude. Cool winds are a cherry on top of it . There is a pre paid taxi stand just outside the hotel premises. One can easily get a bus service 24/7 for Dharamshala, Bir Billing and JwalaJi Temple.
Address: National Highway 20A, Bharwain, Himachal Pradesh 177109
Phone: 01976 255 234
Note: We don't make any guarantees if the above-stated facts are not correct. If you think any information provided by us is wrong then contact us.