Rudranath Temple is one amongst the Panch Kedar temples dedicated to Lord Shiva which is located in the Grahwal region of Uttarakhand, India.It is the fourth temple to visit in the circuit of Panch Kedar pilgrimage.
The temple is surrounded by the lofty Garhwal Himalayan Mountains and is located at an elevation of 3600 m. It is said that this important Hindu shrine was built in 8th Century AD and is said to shelter the face of Lord Shiva.
Whereas, other parts of his bull incarnation like the hump, is in Kedarnath; arms in Tungnath, navel, and stomach are in Madhyamaheshwar and the hair and head in Kalpeshwar.
Rudranath temple is the toughest one to reach in comparison with other temples of Panch Kedar owing to it's geographical location.
---
Also Read: ABOUT KEDARNATH TEMPLE
---
In order to reach the the temple one will have to cover the distance of around 23 km through trekking to reach here. Hence, trekkers have to trudge through an arduous trek that can only take them to his pilgrimage site in Uttarakhand.
Not limited to this expedition , the temple is also bounded by Surya Kund, Chandra Kund, Tara Kund, and Manas Kund which are the major attractions in Rudranath.
According to the history, Pandavas established the Rudranath temple. Pandavas slew their kin Kauravas during the Mahabharata. Hence, Rishi Vyas advised them to go to Lord Shiva, because only he could absolve them of their sins. However, Shiva kept hiding from them and took the form of a bull.
Then, he went into hiding in an underground safe haven at Guptakashi. Later, Lord Shiva's body parts as a bull rematerialised at five locations. The Pandavas then built Shiva temples in these five places, popular as 'Panch Kedar' .
Rudranath Temple is the place where the face of Lord Shiva appeared. At Nandikund, devotees worship old historic swords protruding from the rocks, believing them to be of Pandavas.
Quick Facts
Address: Chamoli, Uttarakhand
District: Garhwal district
Elevation: 3,600 m (11,811)
Affiliation: Hindu
Deity Worshipped: Shiva
Entry Fees: NIL (If you are carrying a plastic item then you will have to pay 100 Ruppees which is refundable)
Photography: Not allowed inside Garbha Griha
Festivals: Doli Yatra, Mahashivratri, Annual fair
Opening of the temple on Akshaya Tritiya(April/May)
Temple closes for winter after Diwali
Things to Carry: Camera, extra pair of wollen clothes and shoes, umbrealla , water bottle(preferablly steel bottle), some food and medicines.
---
ALSO READ: ABOUT BADRINATH TEMPLE
---
Pooja Timings:-
Timings
Open
6 AM
Close
7 PM
Morning Aarti
6 AM
Evening Aarti
6:30 PM
Astonishing Facts about Rudranath Temple
In the winters, devotees bring a symbolic image of Lord Shiva to Gopeshwar for worship in a Doli Yatra which goes through Sagar village. When the yatris reach Pitradhar, they worship their ancestors and at the end of the journey, they reach Rudranath along with the image.
The temple conducts a annual fair on the full moon day of Shravan month according to the Hindu calendar. It is mostly on the day of Raksha Bandhan and mainly the locals attend the fair.
This temple was built by Pandavas and is amongst the Panch Kedar Temples
The deity is a Swyam Bhuva (Self Appeared) Shivalinga shaped like a human face formed by the projection of a huge rock. This face has a serene smile and a gaze of pure benevolence in the all-seeing eyes. Measuring about 3 feet from the chin to the top of the jatas, a white cloth remains bound tightly on the crown of Lord Shiva.
How to Reach Rudranath Temple?
By Air
Rudranath is located on Gopeshwar-Kedarnath Road. Nearest airport is Jolly Grant, Dehradun which is about 258 km from Gopeshwar. Taxi and bus services are available from Dehradun airport to Gopeshwar.
By Rail
Rudranath is located on Gopeshwar-Kedarnath Road. Rishikesh Haridwar & Dehradun all have Railway Stations. Nearest rail-head from Gopeshwar is Rishikesh (241 km approx). From Rishikesh one can take a bus/Taxi to reach Gopeshwar.
By Road
Rudranath is located on Gopeshwar-Kedarnath Road. From Rishikesh, the entry point is at Sagar village is 219 km. A 20 km trek from Sagar will end at Rudranath.
Where To Stay?
The Tattva Resort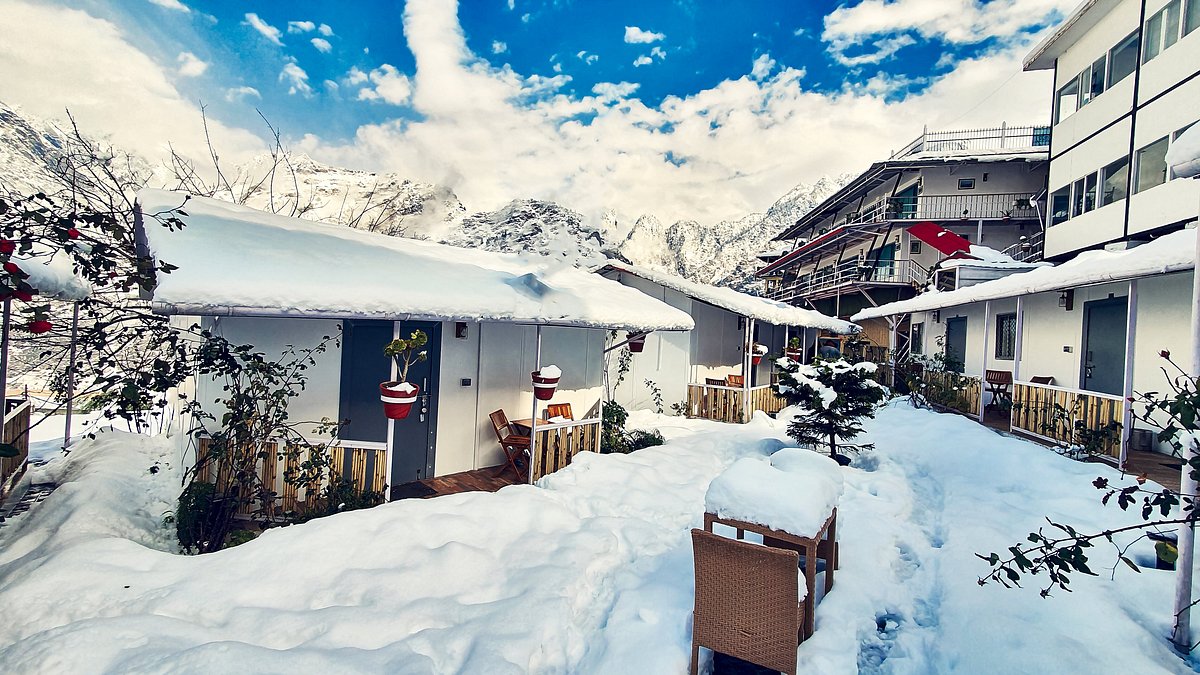 Situated in the serene climes of Joshimath, The Tattva is a perfect abode to enjoy the tranquility of nature, the thrill of the mountains and the spirituality of the holy realm.
Note: We don't make any guarantees if the above-stated facts are not correct. If you think any information provided by us is wrong then contact us.