Situated in the Anantapur District of Andhra Pradesh, India is the ancient and mysterious Lepakshi Temple also known as Veerabhadra Swamy Temple. The main deity of the temple is Veerabhadra.
The history of this temple dates back to the Ramayana period, according to the texts when Demon King Ravana kidnapped Mata Seeta and was taking her to Lanka(present day Sri Lanka) , the brave Jatayu the bird king tried to free Mata from Ravana and fought till his last breath but unfortunately he couldn't succeed he got severly injured and fell off on the ground taking his last breaths when Lord Rama noticed him lying on the ground he said "Lepakshi" which translates to get up bird.
This is how this temple got his name. After understanding the greatness of this temple in 16th Century King Achutdev Rai's trusted treasurer Virupanna and his brother Viranna constructed the temple. The temple has Vijayanagara style of architecture.
Lepakshi Temple also houses two more shrines which are Dedicated to the Hindu Gods namely Shiva and Vishnu.
---
Also Read: ABOUT KARNI MATA TEMPLE
---
There are in total three mandapa in the temple namely Mukhya Mandapa (or Natya or Ranga Mandapa),Artha Mandapa and Garba Griha and third is Kalyana Mandapa. The last Mandapa is unfinished.
Quick Facts
Deity: Veerabhadra
Architectural style: Vijayanagara style of architecture
District: Anantapuram
Timings: 6am–6pm
Photography: Allowed
Dress Code: Traditional clothes (leather belts/clothing are strictly prohibited )
Entry Fee: Nil
Festivals: Mahashivratri, Durgamma Festival and in February there is a 10 day-long celebration.
---
ALSO READ: ABOUT BHIMASHANKAR TEMPLE
---
Astonishing Facts About Lepakshi Temple
This Temple houses the biggest sculpture of demon king Veerabhadra .
There are about 70 pillars at this fabulous 16th-century temple which have beautiful inscriptions all over them.
The main attraction of this temple is the Aakaasa Sthambha (Hanging Column). This pillar does not rest on the ground fully.One can pass a bed sheet below it that too smoothly.
It is believed that during the British rule, a British engineer was sent to uncover the secret of its support. However, upon moving the pillar, the whole structure of the temple started shaking . The engineer was so petrified that he ran off for his life.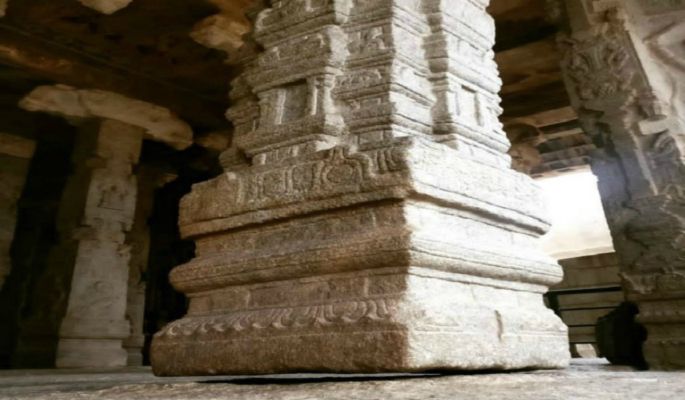 Apart from the mysterious Hanging Pillar Leepakshi temple also houses a 27 ft in length and 15 ft tall monolithic of Nandi(vahan of Lord Shiva) which is also reputed as India's biggest monolithic Nandi.
Another mysterious thing to see in this temple is Goddess Sita's footprint is there in the temple premises. Beliefs say that the footprint got imprinted on the floor during the time Ravana was taking Sita to Lanka.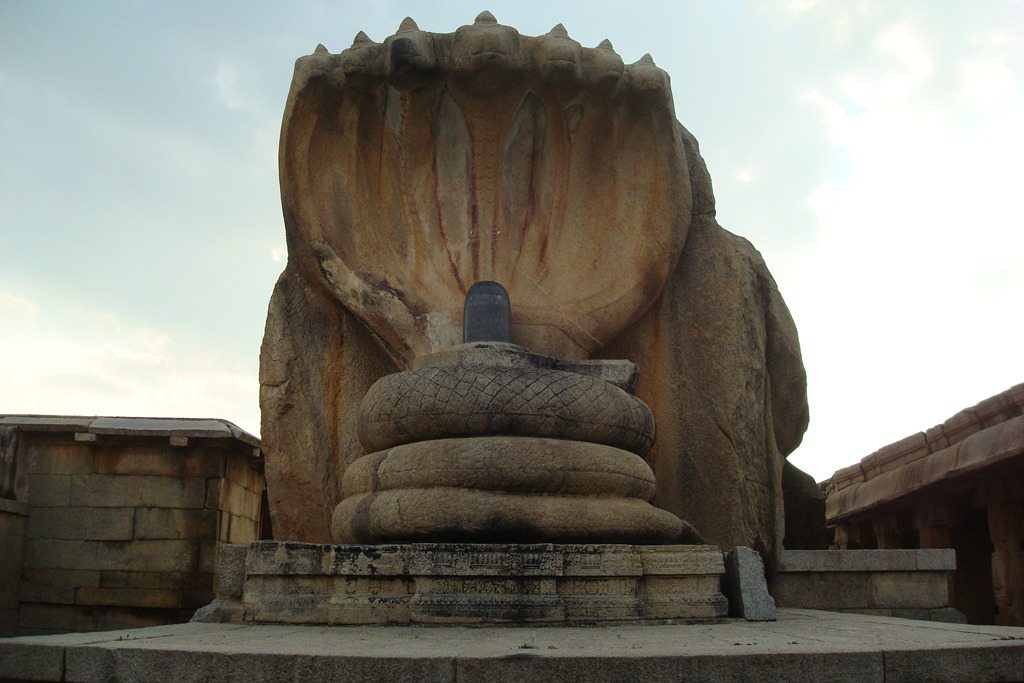 Another thing that can catch your eye is the shiva linga in the temple which is made of single rock and is an example of magnificent architecture . Also referred to as Naga Lingam.
How To Reach Lepakshi Temple
?
By Air
Sri Sathya Sai Airport is the nearest airport which is located about 58 km away from the Lepakshi temple.
By Rail
The nearest railhead will be Hindupur station and which is at an approximate distance of 12 km from here one can opt for a taxi or buses.
By Road
Lepakshi has good road connectivity Many private and government buses connect the temple with rest of india.
---
Also Read: ABOUT AMARNATH TEMPLE
---
Where To Stay?
Lepakshi Haritha Hotel
AP Government Tourism Department runs this hotel where you can get accommodation at a reasonable price and it is located near to the temple.
Estimated Cost: 1000INR*
Note: We don't make any guarantees if the above-stated facts are not correct. If you think any information provided by us is wrong then contact us.